Seth Fowler graduated from Texas in 1998. Since 2004, he has been helping home buyers and sellers in the DFW Metroplex. Whether new construction, existing homes, investment property, or land, he is your Real Estate Sherpa – guiding you through the process, making it an enjoyable experience. Based in Tarrant County, however, he will help connect you with a quality Realtor anywhere in Texas, the United States, or in the world. When looking to purchase or sell real estate in this new market, call Seth at 817.980.6636.
First Half. 
The first half of this game was a defensive struggle – or maybe it was an offensive struggle. I'm not sure whether it was great defense or really bad offense; probably somewhere in the middle. West Virginia used the Iowa State strategy of trapping the guards at half court, which almost always causes panic amongst the Texas offense. It forces them to turn it over quite a bit more than they usually do, as they had nine in the first half. However, the Mountaineers had 10 turnovers of their own, which really just meant the the two teams were very sloppy. The shooting percentages weren't great either, ut the Mountaineers dd enough to get themselves a lead at the half, 28-26. It was neither team's best performance of the season, but it set up what would be a more exciting and competitive second period.
Second Half. 
The second half went a lot better for Texas than the first did – for one thing, Marcus Carr did Marcus Carr things, erupting for 19 points in 20 minutes, finishing with 23 after his four -point first half. The game was close for the majority of this half, pretty much until Texas' 6-0 run, leading to the final score of 69-61. Carr continues to show us how talented he is scoring the basketball, a role he didn't get to fill last year when he was asked to handle primary ball handler and point guard duties. The addition of Tyrese Hunter has freed Carr up to do what he wants on the offensive end, and his scoring has reflected that. Texas is a better team than West Virginia, but home courts can flip things. It was important for the Longhorns to come out on top in Morgantown, and they did so with their second-half performance behind the abilities of Marcus Carr.
Highlight of the Game. 
I chose this highlight due to Dylan Disu's performance overall – he dropped 13 points and five boards before he fouled out near the end of the second half. He kept Texas going in the first half when shots weren't falling for the rest of the team, and overall was aggressive on the offensive end, as well as efficient: 6/9 from the field, some of which were on elbow jumpers and 10-foot midrangers. The fact he can score in a multitude of ways makes it more impressive that he was strong enough here to finish through contact for the and-one.
Player of the Game (Texas).
Marcus Carr has once again earned player of the game after a really impressive shooting performance, 8/14, as well as 5/6 from the charity stripe. His 23 points upped his 17-points-per-game average, which already has him top five in the Big 12 in scoring. He's been absolutely dynamic this year, and is pretty easily thought of as Texas' most consistent scoring threat. When guys like Timmy Allen (two points, 0/5) have bad nights, it's up to the other players to pick up the slack. Carr did that tonight, as well as hitting a game-sealing shot with about a minute left to put the Mountaineers away and silence the crowd. At this rate, Carr will be somewhere on the All-Big-12 roster at the end of the season. He's been that good.
Player of the Game (West Virginia). 
West Virginia's Kedrian Johnson was their shining star tonight, scoring 22 points on 6/9 from the field, 3/5 from three, and 7/11 from the free-throw line. The Dallas, Texas native went off and had one of the.best games against Texas all year due to the straight-up efficiency of his night, where he shot 66%. When you can turn nine attempts into 22 points, you're doing something right. He continued to keep the Mountaineers within striking distance until the last couple of minutes she Texas went on its 6-0 run to close out the game. Even in the loss, Johnson was highly impressive and showed a lot of maturity and leadership on the floor.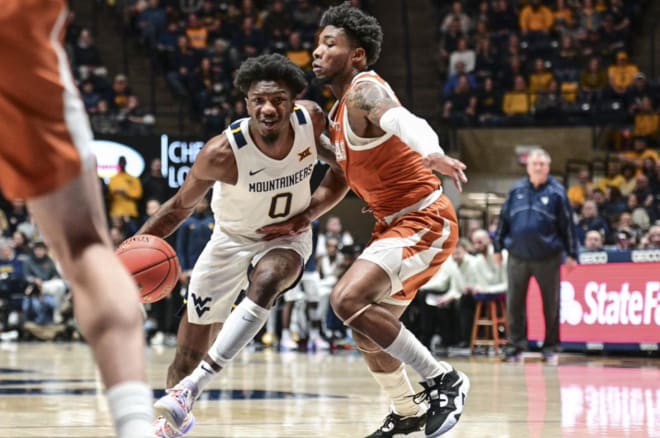 Three-Point Shooting.
This was a pretty poor showing from outside for Texas today, but that's not really a surprise. It almost goes without saying at this point that they're never going to be an impressive, consistent deep-shooting team with the current roster. You can work around that – they're good at almost everything else, but they just cannot hit from deep. The problem with this is not so much missing out on the extra point that a three provides, but more so that when a team is hitting threes, they're able to drive the lane and use drive-and-kick sets in four-out or five-out offenses, which Texas runs a decent amount. It alleviates the pressure on the guards like Hunter and Carr that have to initiate everything. Shooting poorly from deep was about the only real complaint from today other than turnovers. Speaking of which…
Turnovers. 
Texas turned WVU over 20 times today, leading to 19 points for the Longhorns, which was a major factor in the game's outcome. Texas generally wins when they force as many turnovers as they did today; the defense was excellent, and their maturity showed by playing lockdown defense even when things weren't going their way on the offensive end. Texas turned it over 13 times themselves, but only turned it over four times in the second half, meaning Rodney Terry's halftime adjustments worked. They pushed the pace still, but not as much, and were not as careless with their possessions. When you have a turnover margin of +7, that typically means you've played a good game, and Texas did just that today.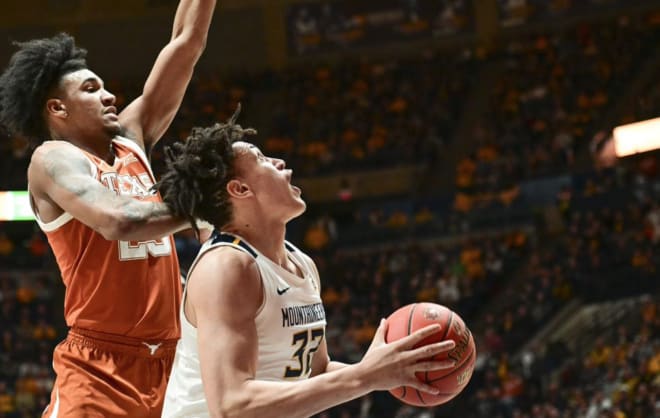 Free Throws. 
Texas has been an excellent free-throw shooting team this season, having essentially won the Texas Tech matchup due to their abilities at the stripe. This game's foul shooting, though not quite as locked in as it has been recently, was still passable, as they hit 74% from the line on 19 attempts. (So they hit 14 of them, for all of you non-numbers guys like me). They hit six free throws in the last three minutes of the game to help ice the outcome in the Longhorns' favor: Rice hit two and Carr his four (in addition to his final shot, which put it out of reach for WVU). This is a mental thing; this team is mentally strong and doesn't get rattled. Younger teams would miss in these kinds of situations. It's yet another testament to the maturity of this Longhorns team.
Overall Thoughts. 
This is a big win for the Longhorns regardless of what West Virginia's record was coming in. Road Big 12 games are not easy to win, no matter who the team you're facing is. We saw that with the Texas/Texas Tech matchup at the Moody; the Red Raiders are 0-7 in conference and still gave Texas a hell of a game. West Virginia is now 1-6 in conference, and they still play excellent defense and scheme really well (i.e., trapping the Texas guards once they cross half court, which took the Longhorns a half to figure out). The important thing is that they're winning these games, because when the schedule ramps up, they'll have a bigger margin for error before Big 12 Tournament.time. But for right now, your Longhorns are 16-3, and 5-2 in conference, tied for second behind only 6-1 Kansas State.
JWB: Just win, baby.